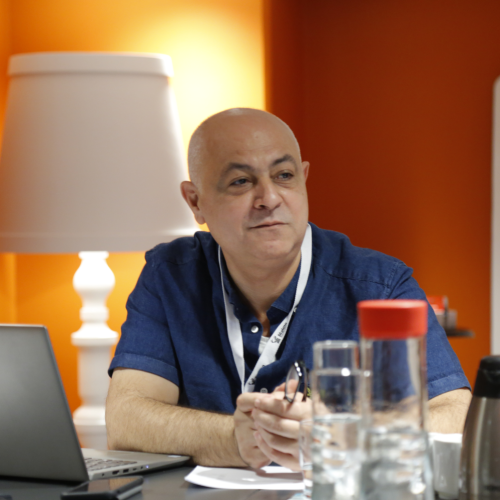 Artistic Consulting
Mouhamad Keblawi
Director, Producer, Founder
Skills
Great experience as a producer and director in television and documentary film production.
Broad experience in project management in media production and business development within the cultural and creative industries with particular focus on diversity.
A creative, goaloriented and positive person who seeks to merge diverse groups and people into a whole. He is enthusiastic, out-going and always work hard to go through with what he believes in.
Since 2011, he is the MAFF& Maff Market Forum Founder and General manager who became the West's largest and most influential film festival focusing on Arab films. The festival has developed into an international platform for cooperation between the Nordic and Arab film industries.
Short biography
Swedish/ Palestinian producer and director, borned and raised in Syria. He lived and worked in Dubai for several years before to settled in Sweden in 1989 where he fulfill his dreams of working in television, film and drama production. Since then he has worked with a wide range of media and cultural activities in Sweden, Europe, Africa and the Middle East, and is the Founder and General Manager of the Arab Cinema In Sweden AB and Malmo Arab Film Festival in Sweden.
Selected experiences
2014 F. F. Arab Cinema in Sweden AB, Founder and CEO (film production & distribution)
2008 Keblawi Media Production, Manager and Freelance producer
2006-2007 Music in the South (the Spiritus Mundi), producer and filmmaker
1999-2006 EMP Media – Project Manager, Producer and Director
1997-1998 Production manager of Arab Radio Television (ART Europe), the headquarters in Germany from
1996-1998 ART TV, Producer and Director ( Sweden)
1984-1989 Freelance actor and theater director
Selected Filmography as producer and director
Producer of 10 documentaries and 140 program sections of Europe magazine, 30 talk shows, live concerts recorded in different countries of the world :
Recovery (Documentary Coproduction) 2021
Heart and stone (Producing and directing a feature film) 2004
Jasmine and cement (Production and directing a TV series) 2003
European magazine (140 episodes, a TV show produced and directed) 2001 to 2006
Why I am here? (Documentary production and directing) 2001
Champion from Sweden (Documentary production and directing) 2000
Where were you? (10 episodes, a TV show produced and directed) 1998
Three sails towards the sun (Documentary production and directing) 1998
Arabesque concerts (Concerts for Senior Artists Production and Direction)
Education
1995-1996 Documentary film-line, Kvarnby collage Malmö
2006-2007 Cultural Ambassador Program